Supplemental Data to A Transmigratory Cup in Leukocyte Diapedesis both through Individual Vascular Endothelial Cells and Between them J Cell Biol, 2004 ref.
---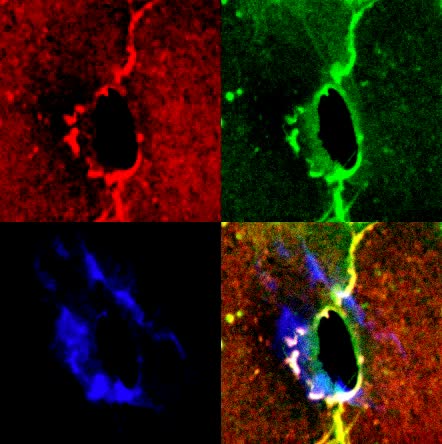 Video 1: Three-dimensional rotation of the ICAM-1- and VCAM-1-enriched endothelial transmigratory-cup.
Detailed Description
TNF-alpha-activated HUVECs were pretreated with MCP-1 and incubated with freshly isolated monocytes for 20 min. Cells were fixed and stained for VCAM-1 (red), ICAM-1 (green), LFA-1 (blue) and imaged by confocal microscopy. Serial confocal sections of were rendered as a series of 30 three-dimensional projections, each representing successive rotation about both the x and z axis in 3 degree intervals for a total of 90 degrees about each axis. This video highlights the three-dimensional architecture of the ICAM-1- and VCAM-1-enriched endothelial membrane projections (i.e., transmigratory cup) and the colocalized linear tracks of leukocyte LFA-1.
"Video for Everybody" v0.3 by Kroc Camen camen design